Feel-Good Foods
If only it were that simple.
While there are certain foods that can boost our moods (we'll cover those!), a lot of feel-good eating is a matter of our habits. Eating is not something that we simply do to fuel out bodies: it's social (such as a party or a nice dinner date) and emotional (nursing a pint of ice cream after a bad day or "stress-eating" that bag of chips when the waiting room in the ER has 30 patients in it).
Let's hit habits first: a suggested list of DO/DO NOT for when you're feeling down... I say suggested because nutrition is NOT a one-size-fits-all thing. What works for one person may not work for another. I follow a specific diet that works for me but that doesn't mean it will work for my clients. When I'm health coaching, every program is uniquely formulated for each client - no two are the same. So take these suggestions and try them on for size!
DO feed your brain: think omegas (nuts, fish, lean protein), B vitamins (legumes, eggs, fish, nutritional yeast), Vitamin D (nuts, mushrooms, leafy greens), selenium (nuts, fish, lean meats), and magnesium (nuts, leafy greens, avocados, chocolate). The easiest way to knock a bunch of these out in one fell swoop is with a nutty bliss ball (isn't "bliss" what we're looking for anyway?). Check out the Blueberry Brazil Nut Bliss Ball recipe at the end of this post!
DO avoid processed foods: keep it simple for your gut. Your mind and your gut are linked, so don't overburden your system with processed foods that are hard to digest. Think fresh fruits and vegetables, whole grains, and minimally processed lean proteins.
DO up your protein! Natural sources of proteins such as lean meats, fish, legumes and beans boost your energy level and trigger production of serotonin. (Take a step back to the last DO - avoid processed foods - don't shovel a bunch of protein bars down and call it a day! Think whole foods that you can recognize from their original source!)
DON'T binge. Binging can feel good in the moment, but then come the feelings of regret, and nobody has time for that! The most common binge? Carbs, of course. Stick to complex carbs such as whole grains while avoiding overly sugary treats like donuts (oh, but the temptation is real).
DON'T drink away your pain. Alcohol leaves you body dehydrated and actually further depletes GABA (a key neurotransmitter that regulates your mood and anxiety). Save the bubbly for celebrating!
DON'T forget that eating well is a form of self-respect and self-love. The power to change your mood always starts with you. Love your body by eating nutritious foods, choosing them in a respectful manner, and enjoying them.
Blueberry Brazil Nut (Bee Pollen) Bliss Balls
Ingredients:
10 Medjool dates pitted (optional: soak in warm water while you measure the rest of the ingredients)
1/2 cup Brazil nuts
1/2 cup frozen wild blueberries (do not thaw - if you buy fresh, freeze overnight... it's a texture thing!)
1 tsp vanilla extract
1 Tbsp chia seeds
Optional: shredded coconut, bee pollen, or other topping. I used bee pollen because the color is happy and for a little immunity boost!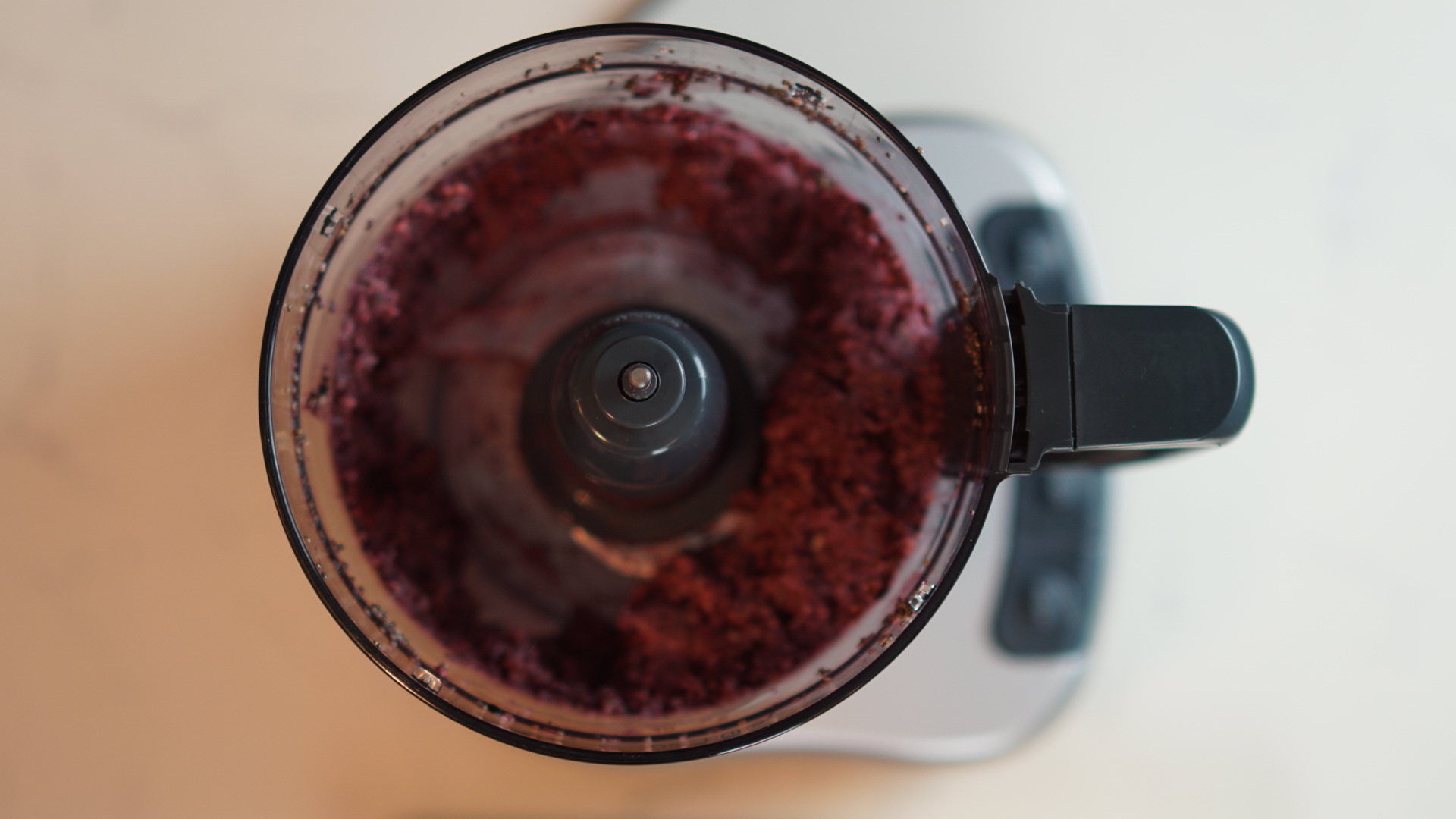 INSTRUCTIONS: Process everything in the food processor until well blended. Wet your hands a bit and roll mixture into balls. Makes about 8 balls. Refrigerate for about 30 minutes before enjoying! AFTER refrigerating, give them an extra roll for something more round (the shape can be hard to get right on the first roll). If you're coating in coconut or bee pollen, spread onto a plate and roll through gently! Store in refrigerator.
Another favorite? These delectable Dark Chocolate Avocado Truffles courtesy of Detoxinista. These magnesium-rich treats are a sure-fire way to amp up your relaxation game. My advise? Best enjoyed in a bubble bath with a good book!
What foods or eating habits do you find yourself turning to when you're feeling down? How do you see yourself using nutrition to alter your mood in a positive way? Comment to let me know!